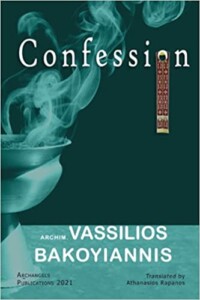 [1]
About the Orthodox Christian sacrament of Confession. Assuredly, one of Christ's greatest gifts to His Church is the rite of Confession. Lots of excellent insight and instructions for both priest and lay people.
"Blessed is he whose transgression is forgiven, whose sin is covered" (Ps.32:1).
"If we asked one of Nero's companions "What do you think of Nero?" he would tell us that "He's just perfect." And if we asked the Pharisees "What do you think of Jesus?" they would say "He's no good…. stay away from him". (…).
"Most people want their Confessor to serve and minister their own personal desires and not to oppose them. We should have in mind that a "good Elder" is not a person who has been "formed" by our passions and desires but someone who …guides us according to the teaching of the Holy Bible and the Holy Fathers" (Pg 59-60)
CONTENTS
PART I. THE HISTORY OF CONFESSION
1. Public and private Confession
2. Confession before the Priest
3. Confession or discussion?
4. The service of Confession
PART II. REPENTANCE AND CONFESSION
1. The Lord's mercy
2. "Open the doors"
3. Devil and repentance
PART III. THE CONFESSION
1. Some clarifying
2. The Confessor during Confession
3. Confession with repentance
4. Confession without repentance
5. Canon 102
6. The penance
7. A didactic story
PART IV. THE CONFESSOR
1. Bishop and Confession
2. Hieromonk and married Priests Confessors
3. What makes a "good" Elder?
4. Obligations towards confessants
5. An Elder or a guru?
PART V. THE CONFESSANT
1. Not only as a cleanser…!
2. Elder's blessing
3. What does obedience mean?
4. The right obedience
5. "He doesn't understand me"
6. Criticizing your Elder
PART VI. CONFESSION AND PSYCHOLOGY
1. "Doctor, save me"
2. Negligence or depression?
3. Mental illness and Spirituality
4. Confession and mental health
5. Confession & psychoanalysis
PREFACE
Jesus said to His disciples: "Assuredly, I say to you, whatever you bind on earth will be bound in heaven, and whatever you loose on earth will be loosed in heaven" (Mt. 18:18). Have we reckoned that? Assuredly, one of Christ's greatest gifts to His Church is the rite of Confession.
***
2st English Edition. Revised 2021. All rights reserved Translated from the Greek by Athanasios Rapanos
Cover design: Chrysostomos Tromboukis, B.A. www.chrysostomo.wordpress.com
Publisher: Archangels Publications
https://archangelsbooks.com/
ORDERS:
wholesale: archangelspublications@gmail.com [2] or phone 314 614 0843
retail: www.amazon.com [3]
***
The Greek author, the Archimandrite Vassilios Bakoyiannis was born in 1953. He is a graduate of the Theological Academy of Athens and of the Theological School of the University of Belgrade. He received his M.A. in Theology from St. Vladimir's Seminary and his Ph.D. from the Atlantic International University (U.S.A.). In 1974 he began writing and since then has written over 50 spiritual books. The publication of his books in Greece has been exclusively undertaken by "Thavor" publications, which have been exclusively established for this purpose and for which he exclusively writes. Several of his books have been translated from the Greek language into English, German, Italian, Russian, Romanian, Arabic, Serbian, Bulgarian, Indonesian, Swahili. He was ordained in 1980 and serves the Holy Metropolis of Patras in Greece.
ΟΤΗΕR BOOKS BY THE SAME AUTHOR PUBLISHED BY THE SAME PUBLICATIONS
1. Tearful Eyes 2. Christian or an Actor? 3. The world's Final call 4. A Monk's Adventure 5. Confronting the Devil 6. After Death 7. Great Christian Feasts 8. Forty Stormy Years 9. Battles & Passions. Anger, Hatred, Envy 10. Highly Favored One. The Life of Mariam 11. Lion-Tamer 12. Jesus: His Unknown Side 13. St. John Chrysostom. Holy Communion. How & when 14. Food & Spirituality 15. Heresy in One